Chairman
Ybhg Dato' Haji Mohd Ali holds a Bachelor of Arts Degree from University Malaya and a Master in Public Policy and Administration from the University of Wisconsin, United States of America.
He began his long and illustrious career with the Malaysia government in 1972, serving more than thirty-one (31) years before retiring in 2003. His stellar career history includes serving as:
Assistant Secretary to the State Secretariat of Malacca
Principal Assistant Secretary (Finance) to KKM of Information
District Officer of Hulu Langat District, Selangor
District Officer of Klang District, Selangor
Secretary (Property Division) to the Prime Minister's Department
Deputy Director General of Malaysian Highway Authority
State Financial Officer of Negeri Sembilan
State Secretary of the State Government, Negeri Sembilan
He also sits on the Board of Perbadanan Nasional Berhad, Bank Simpanan Nasional Berhad, ECM Libra Berhad, Tabung Haji Properties Sdn Bhd, Shuncirin Industries (Malaysia) Berhad, Supercomal Technologies Berhad and New Pantai Expressway Sdn Bhd.
YBhg Dato' Khairuddin bin Mohd Sari
Director
Ybhg Dato' Khairuddin was a student of the Royal Military College before he continued his studies in University Malaya and graduated with a Bachelor Degree in Economics in 1973.
He served as Administrative and Diplomatic Officer in many civil service departments such as:
Human Resource Department
Ministry of Information
Commercial Vehicle Licensing Board
Ministry of Public Enterprise
Ybhg Dato' Khairuddin is actively involved in various agricultural projects under the Ministry of Agriculture and responsible in managing the Staff, Finance and Human Resource Department in the Ministry of Home Affairs, mainly for the Prison Department of Malaysia. During his service in the Malaysia government sector, he has also been appointed as Board of Director for many government organizations and agencies such as:
Terengganu State Economic Development Corporation (1985-1987)
Kelantan State Economic Development Corporation (1986-1989)
Perlis State Economic Development Corporation (1985-1989)
Companies Commission of Malaysia (2001-2004).
He was awarded as Kesatria Mangku Negara (KMN), Johan Setia Mahkota (JSM) and Dato' Paduka Tuanku Ja'afar (DPTJ) from Yang Di Pertuan Besar Negeri Sembilan, Tuanku Ja'afar Ibni Tuanku Abdul Rahman as an appreciation for his contribution towards the country and to the government.
Prior to his retirement in April 2006, he was the Deputy Secretary General (TKSU) in Ministry of Domestic Trade and Consumer Affairs.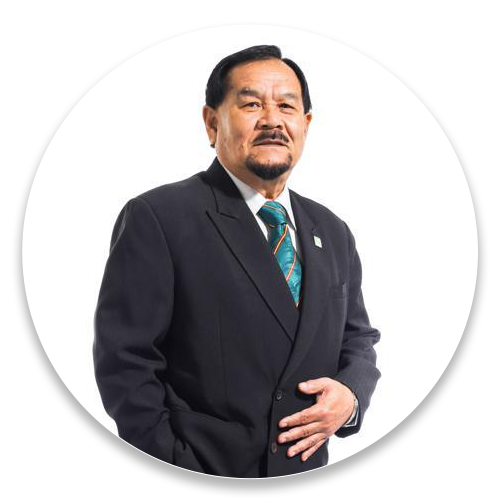 Chief Executive Officer (CEO)
Venkatesh Kumar is the Chief Executive Office (CEO) of Quantum Medical Solutions Sdn Bhd (QMS). Prior to joining QMS, he was the Chief Executive Officer and Managing Director of MNE Solutions Sdn Bhd, a medical equipment maintenance service provider for Pantai Medivest Sdn Bhd. He also served as Chief Executive Officer of ITAL TBS S.p.A, (MNE Technologies) and Manipal Service Corp Facility Management, a medical equipment maintenance and facility management company for more than 600 hospitals in India, United Arab Emirates, Bahrain and Kingdom of Saudi Arabia.
Venkatesh has 24 years of experience in various organizations holding key positions responsible for back-end customer service support, business development, exploring new market and liaising with government and non-government bodies within the Health care industry.
He began his career as a Service Engineer for a medical equipment supplier in 1990 and was retained as a Country Manager in 1992 for American Patient Monitoring Manufacturer M/s Space Labs in India. He holds a Bachelor Degree in Electronics and Communication with a post-graduate degree in Operations Management.
He was a curriculum development team Leader for the Advanced Diploma in Biomedical for Polytechnic Sultan Salahuddin Abdul Aziz Shah- Shah Alam.
Tn Haji Mohd Faizal bin Haji Abdul Majid
Senior Vice President, Corporate Finance
Tn Haji Mohd Faizal is an experienced Chartered Accountant registered with Malaysian Institute of Accountants with proven skills in finance, business improvement and operations. He brings along 20 years of working experience from a Main Board listed company experienced in various departments including finance, procurement and business operations.
He has demonstrated leadership with strong people management skills is a dedicated team player and has the ability to identify key business issues and bring out sound transformation to improve company business performances.
His most notable achievement to-date is the spearheading of an internal group restructuring to improve efficiency and reduce operational costs, bringing savings of RM 2.3 million and various funding arrangements.
Senior Vice President, Contract Management
Zambri Che Mi holds a Master in Business Administration (MBA) from University Technology MARA (UiTM)/Cardiff University – MBA Twinning Programme and Diploma in Electrical (Power) Engineering under IBM World Trade Corporation's sponsorship at UiTM. He began his career as IBM Computer System Engineer at IBM World Trade Corp. Malaysia, and has worked at IBM WTC offices at IBM Canada, IBM Australia and IBM Hong Kong throughout his 10-year tenure in IBM WTC Group.
Zambri have had over 30 years successful experience in providing Business and Project Management, Strategic and Operation leadership positions including:
Senior Vice President, Contract Management and Operations (Current Position): Responsible in Supply, Delivery, Installation, Testing & Commissioning, Training, Maintenance and Warranty for Bio-Medical Equipment for Ministry of Health Ma;aysia. (Period: 2011-present)
Chief Operating Officer (COO) /Project Director for Business Analytics Software Company (Global Odyssey Corp. Sdn Bhd). BI Projects for MMC Group and BERNAS Group (Period: 2009-2011)
Project Director for Property Computerization Project for National Property Information Center (NAPIC) under MOF. (Period: 2007-2009)
Project Director in Encryption Security Software Company (Entropic Technologies (M) Sdn Bhd) for Implementation of Mobile Secured Communication Project for Ministry of Defense, Malaysia (MINDEF). (2005-2007)
Project Director in ICT Company (Resolv Technologies Sdn Bhd) for Housing Loans Division Computerization Project, Treasury (Under Ministry of Finance, Malaysia)(2002-2005)
Project Director in Concession Company (Medical Online Sdn Bhd) for Implementation of MSC-KKM Telehealth Project under Ministry of Health, Malaysia. (MOH)(2000-2002)
Computer Service & Systems Engineer at IBM World Trade Corporation, Malaysia. (1990-2000)
Assistant General Manager, Technical Service
Pramodan C. graduated with a Master Degree in Healthcare management and a Bachelor Degree in Electronics and Communication with Diploma in Biomedical Instrumentation. He brings more than 18 years of experience in biomedical service industry as he held many senior positions in different organizations.
Pramodan began his career as a biomedical service engineer in Ministry of health hospital in Sultanate of Oman in 1994 and was the team leader of Al Khoula hospital in Oman from year 1994 to 2000. He then joined MNE Technologies Ltd, a medical equipment service provider for Manipal Group of Hospitals as a Regional Manager from year 2001 to 2007.
From 2007- 2011, He joined MNE solutions Sdn Bhd as a Senior Technical Manager, an imaging medical equipment service provider for Pantai Medivest Sdn Bhd and at the same time, he was also a team member of the curriculum development for Politeknik Sultan Salahuddin Abdul Aziz Shah's Advanced Diploma in Biomedical.
MIS Manager, Management Information System
Fakhrul Anwar Sulaiman is responsible for overall QMS IT projects and Operations.
He brings to us over 20 years of Information technology experience from GLC and MNC companies with a proven technical ability to integrate IT best practice into the health sector business.
Prior to joining QMS, Fakhrul was an IT Manager in Minconsult Sdn Bhd, IT Operations in Dell Inc. and several projects role in Global IT, Hewlett Packard (HP).
Earlier, he involved in National Flagship – Malaysian Smart School Projects (Telekom Smart School) and KUB Malaysia.
He holds a diploma and degree in Computer Science from Universiti Teknologi Malaysia. Certified by Axelos in ITIL Version 2-3 and Microsoft Certified Professional.
President, Human Capital And Administration
Veraya Ratnam holds a Bachelor Degree in Arts from University Malaya and Diploma In Human Resource Management & Industrial Relations from Malaysian Employer Federation. He is also a certified Lead Auditor for ISO 9001 Quality Management System; ISO 14001 Environment Management System and OHSAS 18001 Occupational, Health and Safety.
Veraya has over 15 years of experience in Human Resource Management, managing the full spectrum of human resources functions including the implementation of HR strategies and programs. He was also involved in the implementation of ISO Quality Management System in government and private sectors.
His career history includes working with Fritz Logistics (M) Sdn Bhd and UPS as Head of Human Resources and Administration, Head of Performance Improvement in DHL Malaysia, Malaysia LNG Sdn Bhd (a subsidiary of PETRONAS) Organizational Improvement and Director of Human Resource for Borneo Convention Centre in Kuching.
Manager, Quality Assurance
Mohd Salleh has more than 14 years of successful experience in healthcare maintenance, successfully developing Total Quality Management system with Faber Medi-Serve Sdn Bhd (FMS). He has involved in various significant projects led by Ministry of Health Malaysia.
He is proficient in Quality, Safety, Health and Environment Management System (QSHEMS) in healthcare and has helmed the operations monitoring unit and non-concession business unit during his tenure with FMS prior to joining Quantum Medical Solutions (QMS).
Mohd Salleh holds a Diploma in Estate Management from Universiti Teknologi MARA (UiTM) and Bsc (Hons) Land Management from University of Portsmouth, UK.
Manager, Contract Management
Mohd Nasaruddin Nasir graduated from Universiti Teknologi MARA (UiTM) in Accountancy and he brings more than 20 years of experience to the business. He is in charge of overseeing the tender process, evaluation and final proposal of suppliers for more than 100 categories of equipment for approval by the Ministry of Health. Mohd Nasaruddin is also responsible in the planning of deliveries by the selected suppliers to the respective clinics all over Malaysia.
Prior to joining QMS, he was in the Banking sector before joining SONY Manufacturing Malaysia in the Production and Procurement Planning division. During his 17 years tenure with SONY, he was one of the project leaders overseeing various aspects of planning and control under Quality Management System, which employs management tools such as Six Sigma, FMEA and 5S.